When I posted the All Doll picture on Den of Angels, I was swarmed with lovely comments as well as requests for close-up shots.  So here we go: shelf-by-shelf groupings!  Given how ridiculously long it takes me to take and edit photos it will be a long-term project :).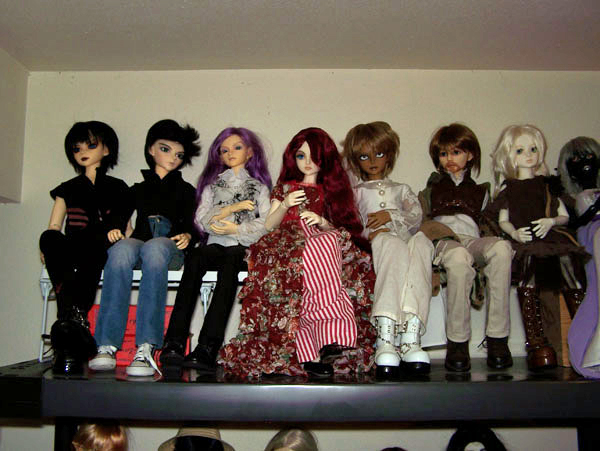 Just TRY to get decent lighting and steady hands down here in the dark!  This is the top left corner of the Wall O'Doll, and while the second picture came out much better, it didn't show the Mirodoll drow.  So you get both!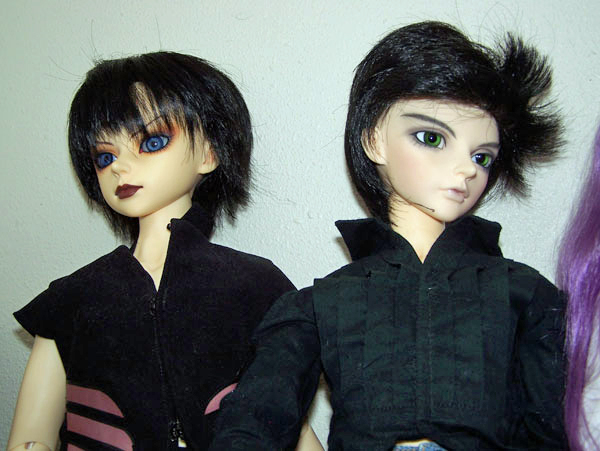 Here are two familiar faces!  On the left is Niari, a Type 1 CP/Delf Shiwoo who I've had for years – March 2007, to be exact. He has yellowed a lot in the time since, particularly in his faceup – but I can't bear to remove it for some reason.  I'll never forget the day I got him, as it was instant love for me. 🙂  To his right is one of my many unnamed dolls, a much more recent El on another type 1 body who I bought because my collection begun in 2006 seemed incomplete without an El! 🙂   He desperately needs a different wig, but I haven't decided on his style quite yet.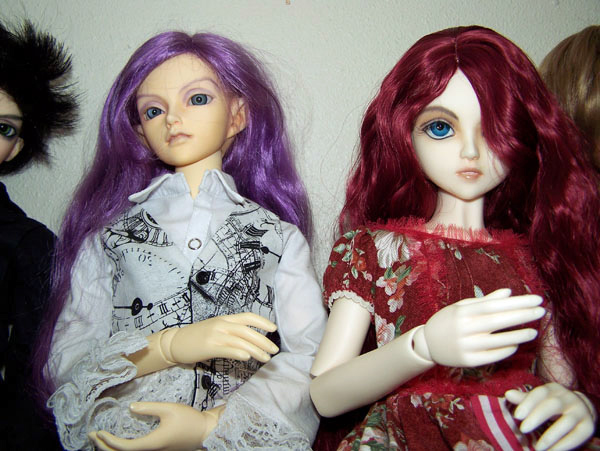 Next is the first up of my gang of elves. He's a Juri 2012 head on a Fantasydoll body – and really the only one of my many dolls who could pull off that wonderful purple wig (Monique Gold, I think).  Next to him is a Customhouse Ceebee bought on a complete whim because she's lovely.  She's wearing my one and only snag from the Val Zeitler "Attic Treasures" collection way back.  I absolutely had to get that dress.  My younger daughter and I keep stealing it from each other depending on who's paying attention the least.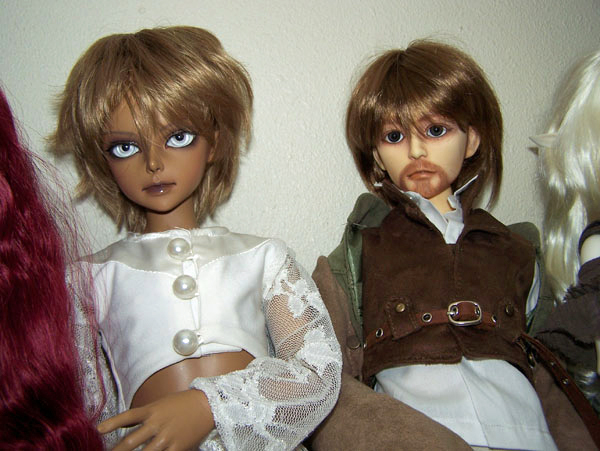 Here are two of my most beloved guys:  Tanwoo Hu and Boris.  Tanwoo is, obviously, a tan Shiwoo – his name was suggested by former DoA regular Spamsama, who said something like "a Tan Shiwoo! Woo Hoo!"  and so he has been ever since.  What's really hilarious about him that's not obvious in this picture is that the wig that his first owner shipped with him in 2007 went to Aernath for several years, where it lived atop Tangetsu's head – one of the funkiest and best-travelled fur wigs ever.  And now both Tang and the wig are here in my collection — small world.   Next to Tanwoo is Boris, a much-labored-over Domuya Zen. I never could get Boris looking right because Zens had amazingly oversized eye holes that really detracted from the balance of the face, in my view.  So began the long process that took me several years and more than one re-modding of the eye mods until finally I got them just right.  Love this boy.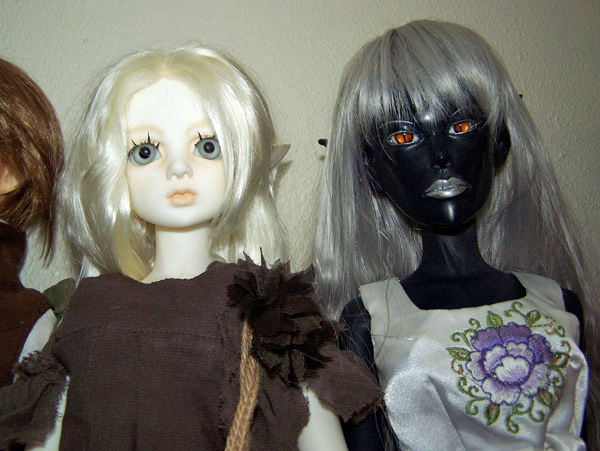 Finally we have a study in contrasts.  To the left is Belinda, a Doll N Doll Bella. Belinda is a minor but important character in the piece I wrote for NaNoWriMo in 2011 – I hadn't planned on shelling that particular character, but when I saw the sale for the Bella I had to have her.  Next to Belinda is my Birthmas 2013 gift, a Mirodoll black resin elf.  I obviously haven't found the right look for her yet; the first faceup I did was simply hideous and I'm not convinced that the silver is much better.  I usually work in pastels and pencils only, but this resin does not play well with MSC.  The Mirodoll body is fabulous – wonderfully engineered, solid and elegant — but to me her head seems a bit out of proportion to her neck.  I hope I'll be able to hide that a bit with the proper outfit and wig at some point.
And that's Shelf One.  Tune in again for the next episode of All Doll, when we venture south to Shelf Two!