I present … Some Guyz!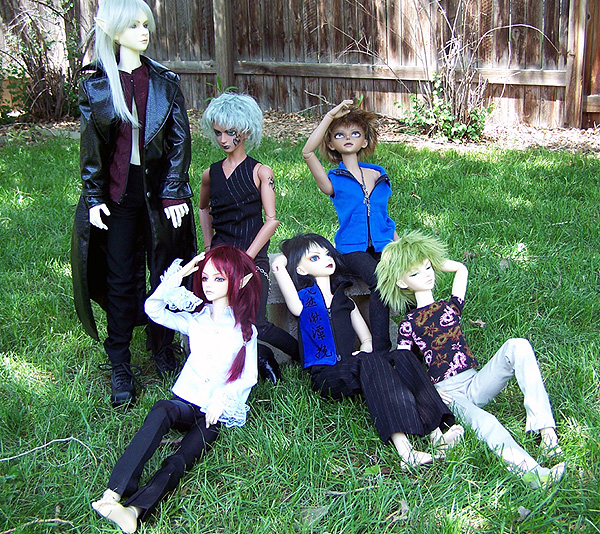 Standing is Roiben (UD Feanor head on DZ 70cm body with modded neck). He was showing off his new leather duds including a coat and boots lifted from some poor Yukinojo somewhere.
Seated on the cinderblock are the lovely Ardit (Iplehouse Tan Soo-Ri v.1) and Tanwoo Hu (Tan Shiwoo), who is very concerned about either tornadoes — or the big cranky momma squirrel who was in the tree right over his head.
Front row, in the grass: Edouard, a BRAND new and worth every moment of waiting B&G Doll Afra boy. Oh my yes he is so fantastic. (and none of the usual "for the price," either, he's just plain fantastic). In the middle is Niari, my favorite little lounge lizard — Shiwoo type 1. And finally, making the aquaintance of the aphids 🙁 is Broc, an El head on Soom body.
I'd give you the list of who's *not* in the picture but it would take up all the space reserved for the rest of the pics. Which I'm sure you'll enjoy more! 🙂
I'm not sure why Ardit was being so cranky in the next shot … but Roiben was watching his #1 fan, Lizardbreath. 😉 Oh, and why does Tanwoo look like he has a thistle growing out of his head?? O_o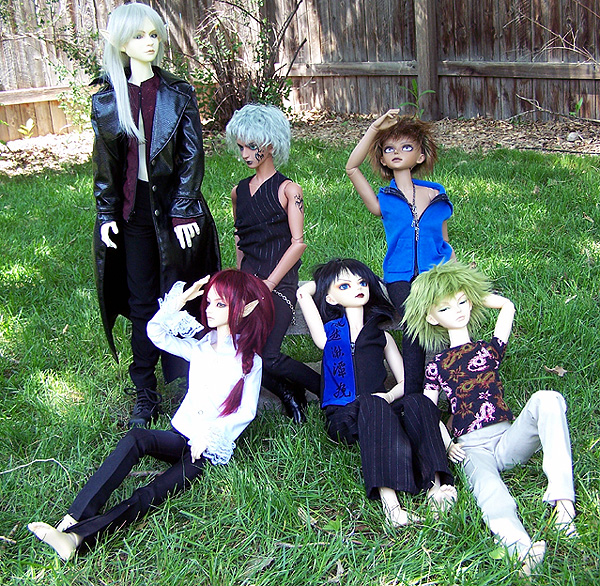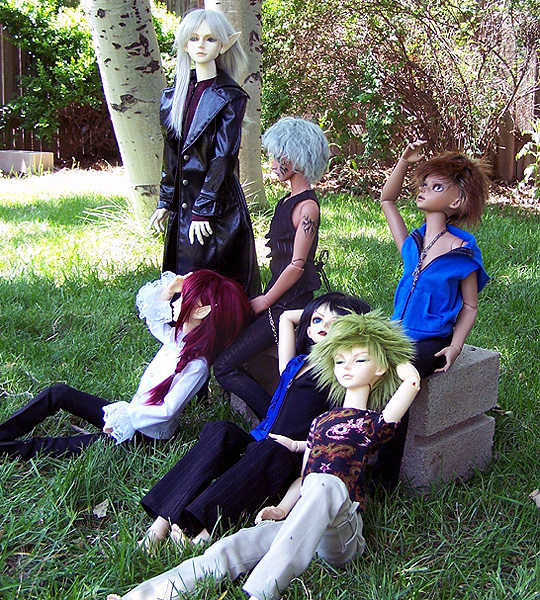 Yeah they're mostly the same. This is a nicer angle of Edouard, though: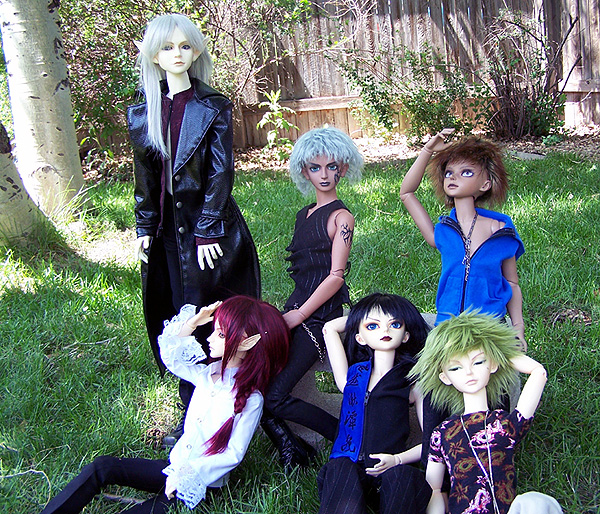 And now for a few closer-uppers: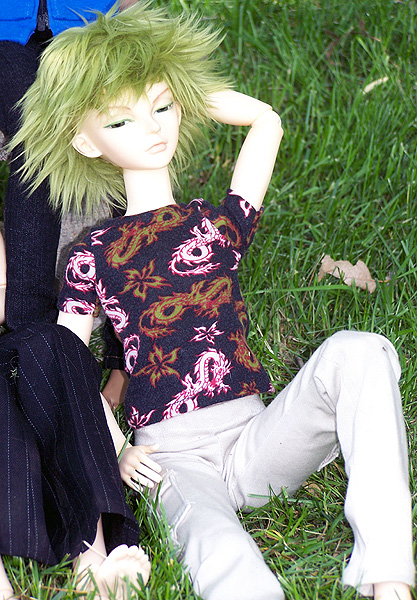 Broc is overexposed in the sun, yes he is. But who cares. Not I! (Clothes by Diverse Designs, btw)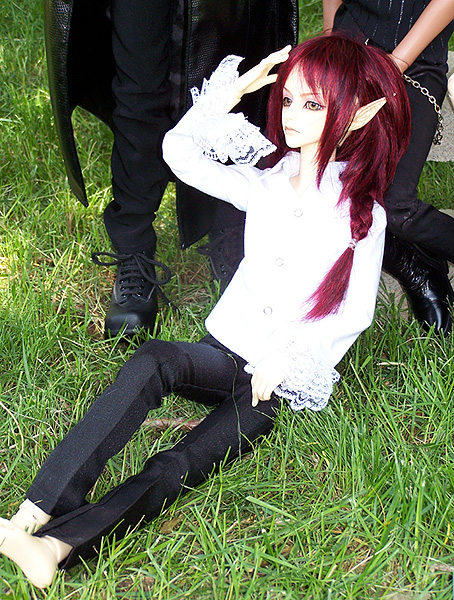 The incredibly beautiful Edouard. He'll get lots more airtime, I suspect.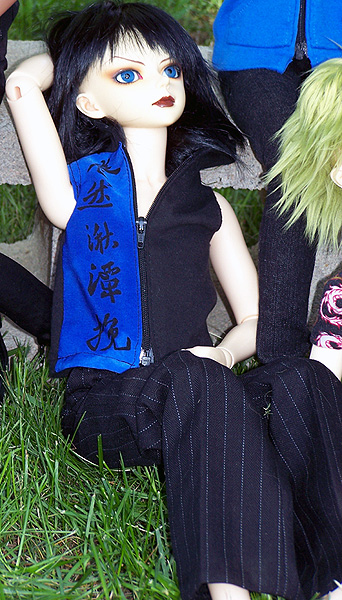 Niari, who has tried lots of different looks but always comes back to the vivid blue eyes in the end.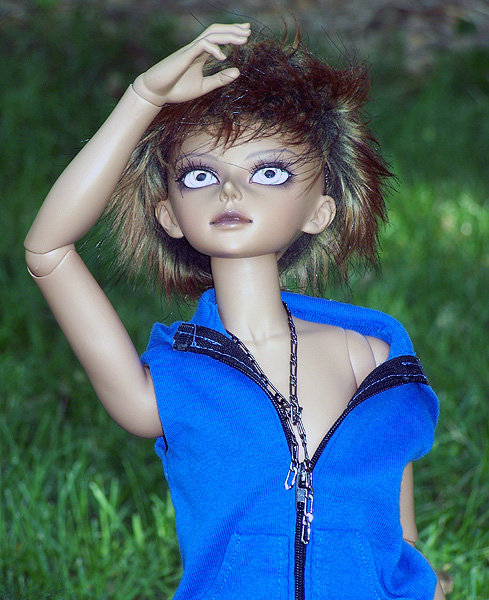 The ever-delectable Tanwoo, watching the skies.

And we always seem to have a tiny struggle going on for the position of Alpha Elf in my Horde between Roiben and Emperor Iruhi, a DZ Wing who stayed inside on this day. For this particular moment, Roiben Alpha's quite nicely, don't you think?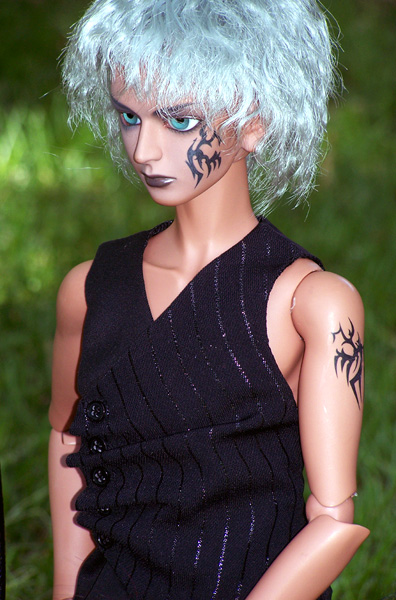 Last, but by no means least — and wishing he could be comparing tans with TangetsuGo and the rest of the Iplehouse Army at Aernath's house, is Ardit. Usually he's smiling at me but this particular day he pouted and glowered.
Hope you enjoyed!