My two girls (Lizardbreath and Jennifer "The Bug") and I visited my father
west of Cleveland, Ohio in late July. I decided to take one of my crew with me,
and Asobu – a Little Fee Shiwoo – not only fit in my carry-on but hasn't
been shown to the public yet. He had a ball! Dad didn't quite get
the BJD concept but artistic stepmom loved him.
(Note: my oh-so-clever Photoshop batch processing action had a typo in it…
and as a result, the pictures ended up half size, and some unusable.
I apologize for the lack of detail that ensued).

********************************
Hi! I'm Asobu, one of the newest guys living with the Baakay Bunch.
My name means "play" in Japanese! I'm here at the Denver
International Airport with my humans, waiting
for our plane to Cleveland.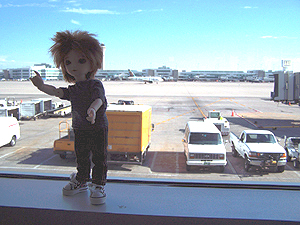 I'm supposed to say hi to Aernath. Apparently it's a requirement
that we get our picture taken in the airport window!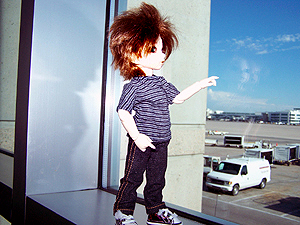 Hey, Lizardbreath! Are you excited to go on the plane too?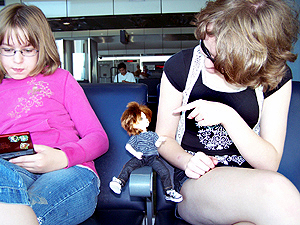 Well, I'm pretty sure Bug over here is excited. What do you think?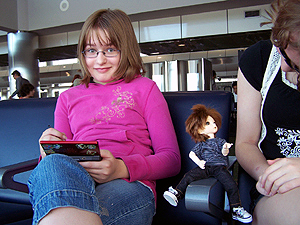 Here we are in the house! There are lots of fun things
to look at here – Baakay's stepmom likes to have toys, too!
This guy in the glasses is Roger. He's named after
Baakay's dad, I think. That was his original name.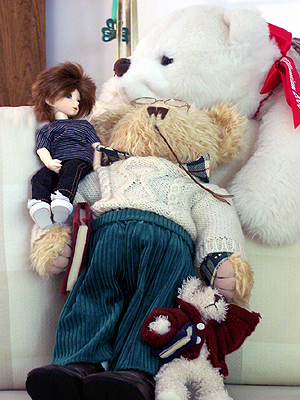 And hey, check out THIS bear! He's HUGE!!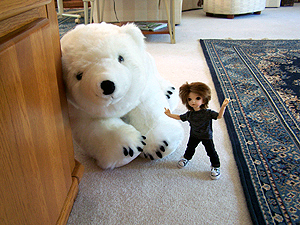 Friendly, too.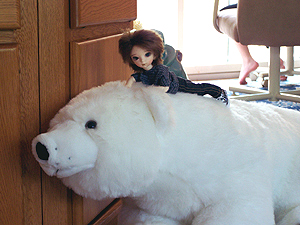 Ommmmmm…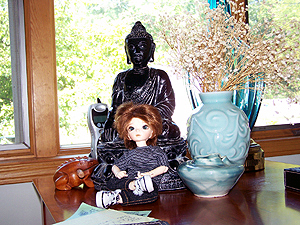 Hey, they have a swimming pool here, too! Here I am
doing some sun bathing on the deck while Bug and Lizardbreath
get silly in the pool. What? Oh, Baakay says they're
always silly. Hee…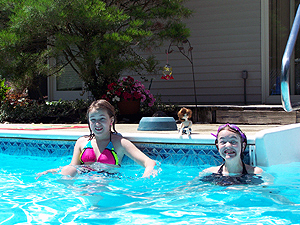 Oh check this out! There's a hummingbird next to the pole
there. There are a bunch of them that live here and
wow do they ever make a lot of noise! They came and
fluttered around my head one afternoon while I sat there.
Very cool!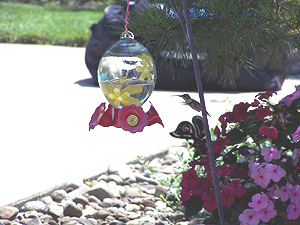 Now! See that water behind me? That's Lake Erie!
At our house we have this lake – well I think you've seen that
Battousai guy walking near it. I thought it was pretty big.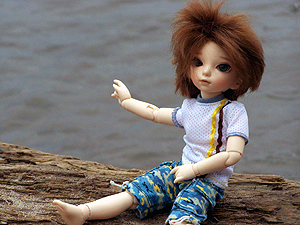 But THIS! is HUGE!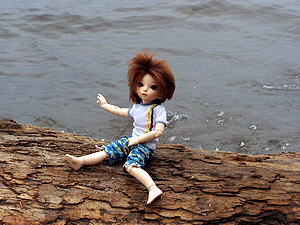 We can't even see the other side!

I'm glad I'm up here on this big log. There are some Really Really Big
Waves today!! ….ok, there goes one… Baakay says they're only
little ripples, but to me they're pretty big. What do I know, have
I ever been to a Great Lake before?
Woah! another one!! EEEEeeee!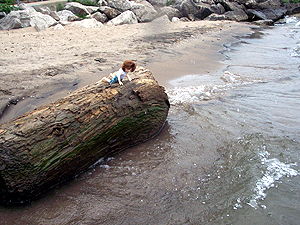 Here I am out on this big breakwater thing. I swam out
here by myself!! …. Ok, not really. 😉 Baakay carried me.
There's a guy on the other side, fishing while standing
up to his chest in lake!

And waaay, waaay down on the other side of that point
is Cleveland! But you can't see it because it's too far
away and it's cloudy today.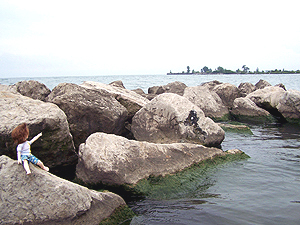 So, let me see if I remember this right. I read up on the
way out here that the Great Lakes were made by glaciers.
And the rock that's all around them is sandstone. We're
down at the bottom of a sandstone cliff, and I'm sitting on
part of a layer… a stratum. I really wanted to
climb up to the top!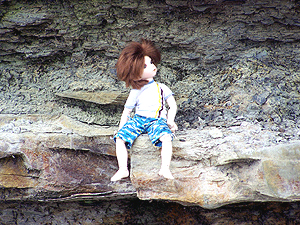 Buuuut it's kind of big for me. (That's me in the red circle)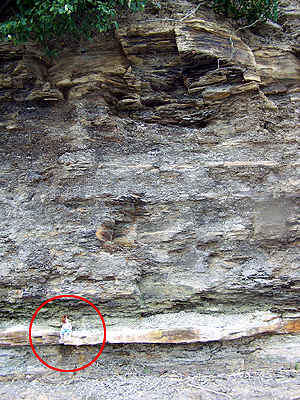 On the way back we saw this. Leaf told me that if I saw
a fountain I should ask to get a picture taken in front
of it. I'm not sure why…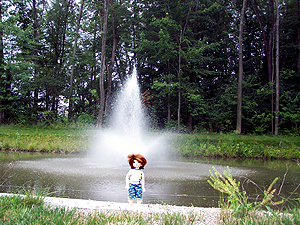 Hey I found another one! This is the fountain
in the front yard. Looks like the stupid fish
is spitting on my head.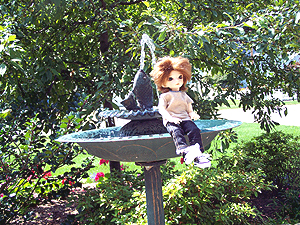 Well, it's almost time for me to go home now, but I wanted
a picture of me with these flowers. For some reason
they made me think of Miss Lir.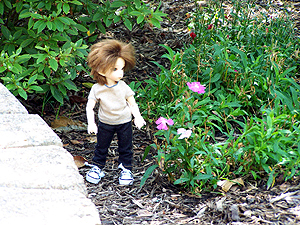 That's it! I wish Baakay hadn't killed the pictures,
because they were pretty cool looking before. But
at least you get the idea.