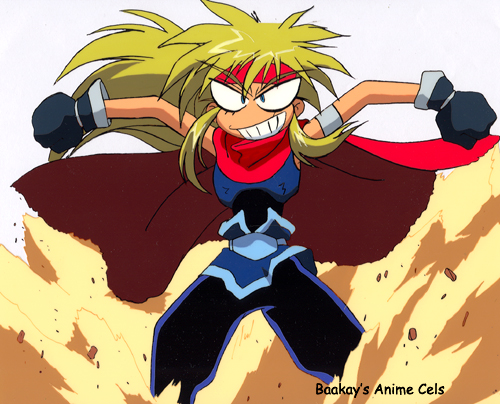 Sequence: Ending, B39
Layers: 1
Sketch: 1 Matching
Background: None
Gokudo-kun - Himself (24)
An ENDING cel!! Woot!
The first time I ever saw Gokudo was at the end of a long day where Kymaera had been visiting. Perhaps we'd just gotten back from Nan Desu Kan, or maybe we were chasing the kids around the yard. In any event, I was tuckered, and semi-snoozing through the first episode.
Suddenly, the TV blats "Wake up! Wake up! Wake up!!" at about twice the volume of the rest of the show, and I jump awake just in time to see this beloved moron come dashing out through the dust, make a face at the screen, and dash off -- tailed by everyone else in the show. It's one of my favorite ending sequences in anime, and I'm excited to have a cel from it!
---
The copyright for all character images is held by their respective creators.
Copyright for commentary, arrangement, and this site is held by
Baakay
.
---